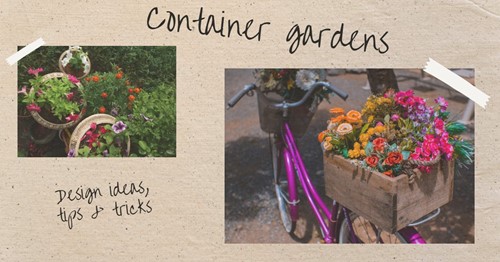 If you're low on outdoor space, creating container gardens might be the perfect solution. Planting multiple varieties of plant in the same container saves space and gives you the opportunity to flex your creativity.
However, there's more to container gardens than just sticking several plants in one pot. If you want to design beautiful and healthy container gardens, here is a simple guide to help:
The 3 key ingredients to a container garden
The secret to designing a great container garden is the three plant ingredients: thrillers, fillers and spillers.
Thrillers
Thrillers are the dramatic and showstopping centerpiece plants. The best thriller plants have an upright growth pattern that allows them to tower over their container neighbors and serve as a vibrant focal point.
While a thriller plant can be anything you deem worthy of the spotlight, some great examples include colorful caladiums, towering elephant ears and vibrant black-eyed Susans.
Fillers
Fillers are the middle and low-growing plants that create a supportive foundation for the entire ensemble. As the name suggests, a filler plant's purpose is to make the container garden lush and full.
Some ideas for filler plants include foliage plants like begonias, fluffy ferns and impatiens.
Spillers
Finally, spillers are plants that spill or creep out over the sides of the container. Spiller plants are typically sprawling or trailing plants that add a third dimension to the container aesthetic.
For spiller ideas, try petunias, sweet potato vine or trailing ivy. If you're making a hanging container garden, don't be afraid to add more than one spiller for a more dramatic effect.
All three pieces of the container puzzle fit together to make beautiful and exciting displays. In addition to aesthetics, striking the right balance between each type will also help you avoid plant issues like overcrowding plant roots and lack of airflow.
Container garden tips & tricks
Container gardening provides myriad opportunities for creative combinations of plants. However, it's crucial to know the needs of each plant before adding them into the mix. It's best to choose plants with similar requirements for sun, water and climate to ensure they last and appear at their best.
Don't forget to think beyond flowers, too. You can create incredible gardens with foliage and ornamental grasses. Try combining different leaf shapes and textures for maximum aesthetic appeal. For a functional and sustainable container garden, try growing herbs and vegetable plants together.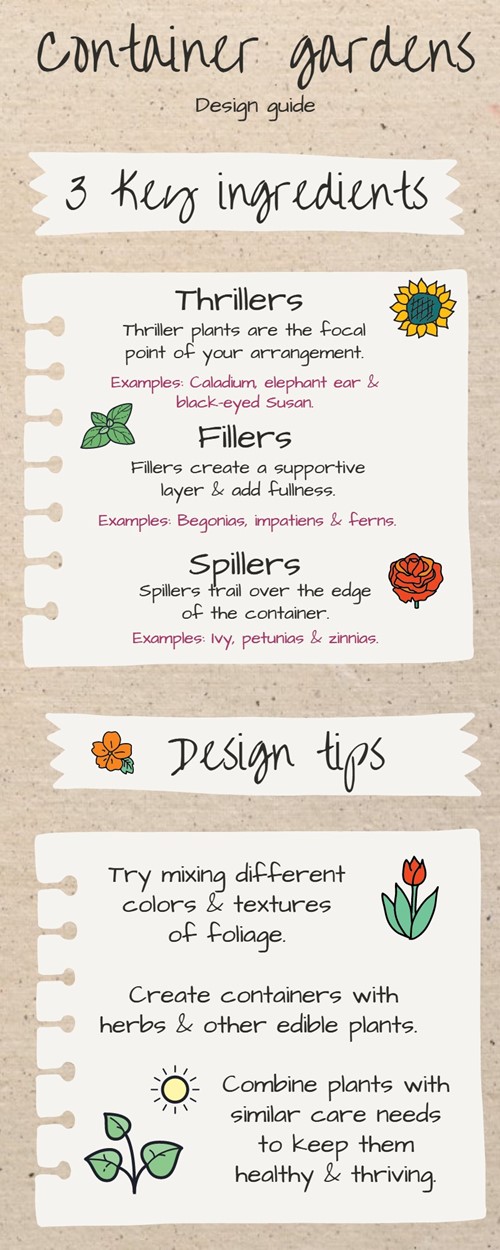 These are just a few tips and tricks to help you come up with your own amazing container garden ideas. Whether you're a fan of small or large plants, you can make container gardening work for you.